DUPLICATORS & MEDIA

SME 9000-MFD SERIES: MULTI-FORMAT
HIGH SPEED TAPE DUPLICATOR SYSTEMS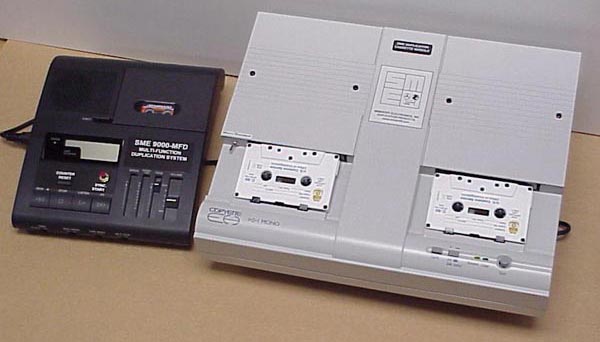 The SME 9000-MFD is a multi-format high speed tape duplicator that duplicates tapes at 8 times normal speed. No other system in production offers the systems versatility and features.
Saul Mineroff Electronics, Inc. is a sole source manufacturer and supplier of the SME 9000-MFD systems to both Federal and State Law enforcement agencies.
System Features:
Duplicates a tape at 8 times normal speed
Micro Cassette to Standard Cassette High Speed Duplication
Standard Cassette to Standard Cassette High Speed Tape Duplication
Converts Standard Cassette Duplicates to 1 7/8 i.p.s. from Micro cassette Originals recorded at 1.2cm/2.4cm and .9cm (Special Versions).
Special Synchronization circuit allows for no loss of conversation during duplication process when more than one copy tape is needed while duplicating tapes from a master which was originally recorded at an extended speed (.9cm and 1.2cm).
Standard Cassette to Standard Cassette Duplicator can be operated independently.
Simple Operation
Models:
SME-9000 MFD: Micro module 2-speeds (1.2cm & 2.4cm) Standard Module ( 1 copy pocket)
SME-9100 MFD: Micro module 3-speeds (1.2cm, 2.4 cm & .9cm) Standard Module ( 1 copy pocket)
SME-9200 MFD: Micro Module 2-speeds (1.2cm & 2.4cm) Standard Module ( 3 copy pockets)
SME-9300 MFD: Micro Module 3-speeds (1.2cm, 2.4 Cm & .9cm) Standard Module ( 3 copy pockets)
^
TOP

---

SAUL MINEROFF ELECTRONICS, INC.
Manufacturer & Distributor of Information Gathering Devices
574 Meacham Avenue, Elmont, New York 11003 USA
Phone: 516.775.1370 Fax: 516.775.1371
Email: TapeNixon@aol.com Website URL: www.mineroff.com

---

© Copyright 2000-2005 (MMV) JRCX.COM Video Web Design, Video, Hosting & Promotion